BREWERY PROFILE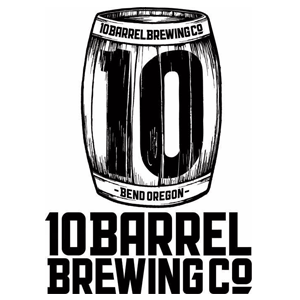 10 BARREL BREWING CO.
BEND, OR | 10barrel.com
10 Barrel started back in 2006 with three guys in Bend, Oregon who shared one simple mindset; brew beer, drink beer and have fun doing it. Since then our brewery has grown but we will always stay the same…Rough morning? Grab a beer. Big powder day? The "Gone Skiing" sign goes up. Too hot to work? Mandatory company float. You get the picture…Here's to living it up with a beer in hand. CHEERS!
Pray for Snow
Winter Ale
ABV | 7.0%
IBU | 75
Big malty aroma with a Munich character and a medium-bodied mouthfeel. German malt flavor profile with slight roasty notes gives a subtle toffee sweetness, balanced with spicy hop bitterness and slight alcohol warming.
Pearl
IPA
ABV | 8%
IBU | 75
​Pearl IPA was the very first beer our Portland Head Brewer Whitney brewed at our Portland Pub. She wanted it to have an aggressive hop profile showcasing huge tropical and pine notes, a clean and snappy bitterness, and a malt profile that is pale and bright. Cheers to Whitey's first 10 Barrel brew!