BREWERY PROFILE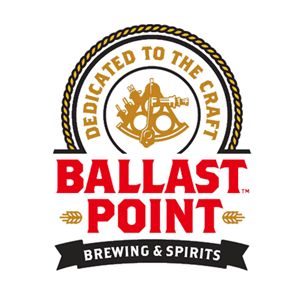 BALLAST POINT
SAN DIEGO, CA | www.ballastpoint.com
IT BEGINS WITH THE SEARCH FOR FLAVOR
The perfect balance of taste and aroma. An obsession with ingredients. An exploration of techniques. And while we savor the result, we're just as fascinated by the process to get there. What started as a small group of home brewers, who simply wanted to make a better beer, evolved into the adventurers known today as Ballast Point.
Victory at Sea Imperial Porter
PORTER
ABV | 10.0%
IBU | 60
Our Victory at Sea Imperial Porter is a bold, smooth brew with just the right amount of sweetness. We infused this robust porter with whole vanilla beans and San Diego's own Caffè Calabria coffee beans. The subtle roasted notes and minimal acidity of the cold-brewed coffee balances perfectly with the sweet caramel undertones of the malt, creating a winning combination for your palate.
Sculpin IPA
IPA
ABV | 7.0%
IBU | 70
A trophy beer that's a testament to our homebrew roots. Our Sculpin IPA is a great example of what got us into brewing in the first place. After years of experimenting, we knew hopping an ale at five separate stages would produce something special. The result ended up being this gold-medal-winning IPA, whose inspired use of hops creates hints of apricot, peach, mango and lemon flavors, but still packs a bit of a sting, just like a sculpin fish.