VENDOR PROFILE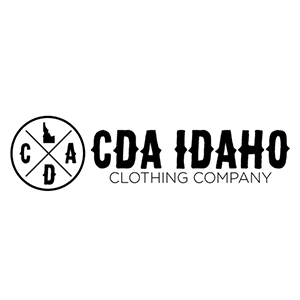 CDA IDAHO CLOTHING CO.
COEUR D'ALENE, ID | www.cdaidaho.com
CDA IDAHO Clothing Company was started by husband and wife team, Andy and Nichelle, with tons of help from their dear friends. Andy owns and operates a local small business and Nichelle is a stay at home mom. Both love to create and design. Cda Idaho has been a great way to be able to do that while getting to work together.
In the Fall of 2015, Andy and Nichelle had the idea to come up with a locally minded shirt company that really captured the coolness of where we live. At first Coeur d'Alene Idaho was the only mid set, but soon the company branched out to doing Idaho designs as well. Before long, people were ordering products from all over the state of Idaho and the rest of the country, whether it was for themselves, a son or daughter at an out of state college, a relative who loved the area, and for many other reasons.
CDA Idaho designs are inspired by the beauty and amazingness of Coeur d'Alene and Idaho in general, and it's been a priority to come up with designs that cater to locals and tourists alike as well as promote a mindset to love the great outdoors. The local community and our customers have been so kind and have provided great feedback.
The continual presence and new designs are an indication of the company's desire to provide great shirt and sticker designs as well as a commitment learn and grow as the company does.