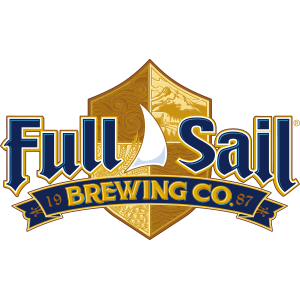 FULL SAIL BREWING COMPANY
HOOD RIVER, OR | fullsailbrewing.com
Brewed to stoke. Stoked to brew. Specialists in the liquid refreshment arts since 1987. Brought to you courtesy of the mad brewing skills of the Full Sail Crew, makers of Full Sail Amber, IPA, Cascade Pilsner, Session Premium Lager, Sesion Cerveza, Session Dark, Session EZ IPA, available year round.
Seasonally we feature our Classic Pub Series of beers, each available for just 90 days. We also brew an ever-changing line of Brewer's Share and Brewmaster Reserve beers that range from super hopped bitters to mellow altbiers to refreshingly tart German brews to malt liquor and barleywine.
Wassail Winter Ale
WINTER ALE
ABV | 7.2%
IBU | 56
With a deep mahogany color, Wassail is brewed with four different malts and a blend of Pacific Northwest hops, giving it a malty full body and a pleasantly hoppy finish that appeals to both hop and malt lovers alike. In other words, a Christmas miracle.
Blood Orange Wheat
WHEAT ALE
ABV | 5.2%
IBU | 23
A refreshing wheat beer with a twist! Brewed with 2-row Northwest Pale, malted wheat, and unmalted wheat. Blood orange provides a subtle twist to this refreshing brew. It pours with a white, lacy head and a hint of orange aroma. A medium malt body with a crisp wheat finish and subtle orange flavor.