BREWERY PROFILE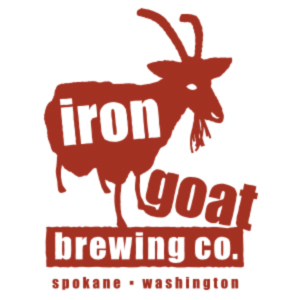 IRON GOAT BREWING
SPOKANE, WA | www.irongoatbrewing.com
Iron Goat Brewing began as a casual conversation between two strangers, Greg and Paul, at a local bar in Spokane, Washington. What started as a common interest in motorcycles, ceramic horses, and home brewing, ended as a full-fledged brewery and taproom with a rotating selection of beers, sours, and bearded men. Iron Goat Brewing continues to create new and seasonal brews and often collaborates with other craft breweries. They stay involved in the brewing community in an effort to keep beer independent.
Anubis Imperial Coffee
Porter
ABV | 9.2%
IBU | 34
A complex imperial coffee porter made with award-winning Evan's Brothers cold brew coffee. Subtle chocolate and coffee notes are balanced by black malt bitterness and malt sweetness.
13th Anniversary
Saison
ABV | 6.7%
IBU | 17
Complex tropical fruity aromas of pineapple, apple, lemon, and mango. Balanced with subtle peppery alcohols and a light earthy spice from the hops and grains of paradise. Soft cracker and bready malt profile provide the backbone for all the yeast derived flavors. Highly carbonated and never sweet; it's a fruity, spicy, and complex yet thirst quenching beer that finishes dry and crisp.