BREWERY PROFILE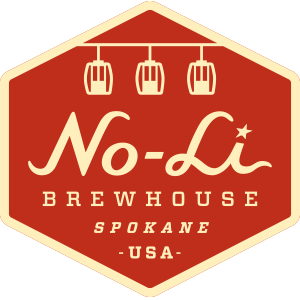 NO-LI BREWHOUSE
SPOKANE, WA | www.nolibrewhouse.com
With a focus on local ingredients, innovation, quality and creativity, No-­Li has been proudly brewing award-­winning beer in the heart of the Inland Northwest since 2012 and is now sold throughout the states of Washington and Idaho. At No-­Li Brewhouse, we strive to always be better. And it is our passion, experiences, and support from those in the Spokane community that continually improve who we are as we help to build a craft beer culture in our part of the country. We take great pride in our product, our staff, our city and No-Li fans everywhere.
Wrecking Ball Imperial Stout
Stout
ABV | 9.5%
IBU | 100
We pulled out all the stops on this big Imperial Stout. Five types of dark, roasted malt are added to this beer to give it a complex flavor of coffee, chocolate and brown sugar. That much maltiness requires plenty of hops for balance. Two large hop additions prevent the dark malt from totally dominating this monster of a beer.
Big Juicy IPA
IPA
ABV | 6.1%
IBU | 55
Bright citrus and tropical fruit hop aromas lead the way. A light malt foundation provides a platform for Citra, El Dorado, Belma and Azacca tropical and citrus flavors to shine. Mellow bitterness just balances the fruity notes in this hop forward, golden-colored IPA.