BREWERY PROFILE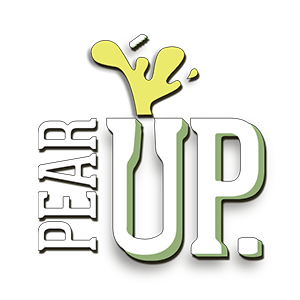 PEAR UP
WENATCHEE, WA | www.pearupcider.com
Pear UP is a family-owned craft cidery inspired by East Wenatchee's rich orchard history. On their great-grandfather's land, co-owning brothers Kevin and Mark Van Reenen have been producing cider for several years having recently taken their passion public. They realized that the native pear varieties on the property provided for a uniquely light and flavorful cider finish. Their HALF PAST Prudent blend is perfect for enjoying across a myriad of situations ranging from a hot day out on the boat to a fire-side winter huddle. Pear Up! This one of a kind blend is best enjoyed with good company enjoying whatever moves you.
Our cidery can be found at the confluence of two rivers, the rushing Wenatchee and the mighty Columbia in a land enveloped by the foothills and towering peaks of the Cascades. Harnessing the gifts of our local waters has provided this valley with world recognized orchards and vineyards. Underneath sunny skies we take to the slopes, the rivers, the trails, and the loop to ski, kayak, hike, and bike. The Wenatchee twin cities are a small town to some and big city to others. But to all, it is exactly where they want to be.
Cranpeary Caramel
CIDER
ABV | 5.3%
Embrace the season with tart cranberry perfectly balanced with smooth caramel. Winter notes infused with a delicious pear blend.
Pearfect Pie
CIDER
ABV | 5.3%
This extremely unique harvest blend brings subtle vanilla and balanced cinnamon while retaining everything you love in a great perry.