BREWERY PROFILE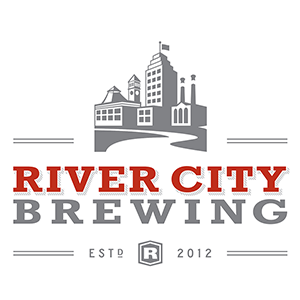 RIVER CITY BREWING
SPOKANE, WA | rivercityred.blogspot.com
Drink Local. That's all we ask. Making quality beer is always job number one. Everything else comes after that.
Midnight Marmot Imperial Stout
STOUT
ABV | 8.0%
IBU | 70
What do you expect from a great stout? A rich, full-bodied beer with espresso and chocolate tones filling your glass. What do you expect from the Midnight Marmot? A mysterious presence of strength. What happens with you combine these things? A normal stout is transformed into a powerful elixir full of extraordinary flavors.
Inconceivable Imperial Pilsner
PILSNER
ABV | 7.0%
IBU | 34
Inconceivable Imperial Pilsner starts with a traditional lager yeast aroma and subtle earthy/fruity hop, and continues with a light mouthfeel and some carbonation kick. You will taste some pilsner malt sweetness softened with a bit of hop and crisp dry finish. In short, it's not quite a conundrum, but it's almost inconceivable. And yes, we do think it means what we think it means.