BREWERY PROFILE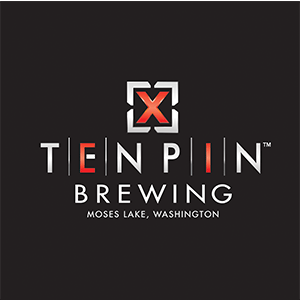 TEN PIN BREWING
MOSES LAKE, WA | www.tenpinbrewing.com
Ten Pin Brewing Company is a family operation built on a legacy that spans nearly sixty years of business and bowling in Moses Lake, Washington. Since 1957 our family businesses have rooted their success in innovation, quality and community, at the center of which has always been a cold beer. Today, this provides the foundation as the third generation looks to the future with a state-of-the-art brewery and a mission to throw a strike with every batch.
Snake Eye Stout
STOUT
ABV | 6.3%
IBU | 33
This stout is a thick, rich, delectable nectar. Silky oats and subtly sweet milk sugar complement roasted barley malt notes of chocolate and coffee.
Gutter Ball Pale Ale
PALE ALE
ABV | 5.3%
IBU | 35
We threw a lot of gutter balls before we got this perfect strike of a pale ale! Juicy, smooth and hazy with a hoppy floral bouquet. Citra and Equinox hops give flavors of starfruit and lemon zest.