BREWERY PROFILE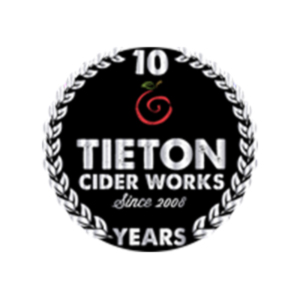 TIETON CIDER WORKS
TIETON, WA | tietonciderworks.com
Our fresh pressed juice comes from apples grown in our very own orchards in Tieton, WA. We blend American Heritage, English and French cider varieties with our organically grown dessert apples to capture the best of what each variety brings to the bottle: sweetness, acidity, tannin and aroma. The results are ciders with body and a depth of finish.
Tieton Cranberry
Cider
ABV | 6.9%
Washington is the perfect place to produce a Cranberry-Apple Cider. Our proprietary blend of cider apple and carefully selected cranberries marry to perfection in route to a well-balanced, slightly tart oering. Pairs well with your favorite holiday dish.
Ashmead's Kernel
CIDER
ABV | 6.9%
Ashmead's Kernel is tart with a peardrop character up front followed by deep Madeira and honey qualities to finish.