BREWERY PROFILE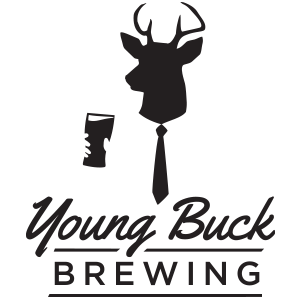 YOUNG BUCK BREWING
SPOKANE, WA | www.youngbuckbrewing.com
Young Buck Brewing is located on the West end of downtown Spokane in the historic Luminaria building, along with several other breweries housed in the Steel Barrel Taproom – Incubator Brewery.
We specialize in barrel-aged sour beer styles, but make non-soured beers as well; you'll find everything from a Gose to a Gueze, and a Pale ale to an Imperial Stout. Our goal is to make the best beer possible, using local ingredients, and supporting the awesome craft brewing scene developing in Spokane.
Stop in today to chat, take a tour of the brewhouse and barrel room, and try one of 30 taps in our attached taproom. We even have a ceviche' bar where you can order the tastiest plates of Baja cuisine you've ever had, prepared by Chef Chad White in his kitchen – Zona Blanca. Cheers!
Warp 4 IPA
IPA
ABV | 6.4%
IBU | 65
The next iteration of our Warp series, this partially fresh-hopped IPA is also heavily dry-hopped with El Dorado. Light-bodied, medium-bitterness, with aromas of grapefruit zest, papaya, and subtle spiciness.
Bucktoberfest Marzen
MARZEN
ABV | 6.5%
IBU | 25
The traditional Oktoberfest-style, a Marzen was made for celebrating the end of harvest season. We use a blend of aromatic German malts and Styrian Celeia hops to create this incredibly easy-drinking, lightly fruity, medium-bodied lager. Aromas of caramel and tree nuts, with subtle accents of spicy Noble hops. Prost! *This special edition is infused with a pound of Roast House F-Bomb coffee in every keg!*