BREWERY PROFILE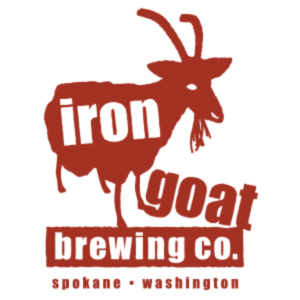 IRON GOAT BREWING
SPOKANE, WA | www.irongoatbrewing.com
Iron Goat Brewing began as a casual conversation between two strangers, Greg and Paul, at a local bar in Spokane, Washington. What started as a common interest in motorcycles, ceramic horses, and home brewing, ended as a full-fledged brewery and taproom with a rotating selection of beers, sours, and bearded men. Iron Goat Brewing continues to create new and seasonal brews and often collaborates with other craft breweries. They stay involved in the brewing community in an effort to keep beer independent.
Mammoth Barleywine
Barleywine
Brewed exclusively with grain from Skagit Valley Malting, this beer's rich malt character is sure to cut through the winter cold. Boasting aromas and flavors of toasted bread, toffee, and candied orange, Mammoth finishes with a pleasant warmth that will invite you back for another sip.
Buzzsaw McThunder

Juicy IPA
Pale gold in color, this Juicy IPA boasts bold, dank aromas of grapefruit and pineapple with mango, papaya, and citrus flavors.
Barrel Aged Cap'n Kidd

Scotch Ale
This coppery brown Wee Heavy is aged for over one year in Dry Fly Bourbon and Wheat Wheat Whiskey barrels resulting in a rich, malty, slightly boozy beer with a hint of sweetness and subtle herbal notes from the addition of heather.
Cranberry  Tangerine

Gose
This fruit forward, slightly saline, gose is light, tart and refreshing.