BREWERY PROFILE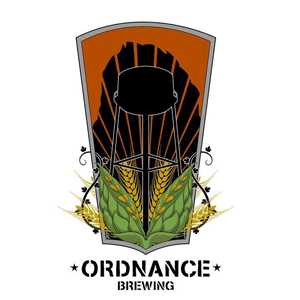 ORDNANCE BREWING CO.
BOARDMAN, OR | www.ordnancebrewing.com
IT BEGINS WITH THE SEARCH FOR FLAVOR
We're brewing beer for people not fads, not trends, not corporate initiatives. For people, and because of this you can trust and count on our beer every time you pick up a bottle or draw a pint. Handcrafted from top quality ingredients, creativity and a desire to provide you with a delicious pint every time. We strive to produce distinct, honest beer in diverse styles that goes beyond being merely enjoyable to being damn enjoyable.
Of Chimpanzees

Coffee Porter
This porter is made with locally roasted coffee from Home Town Coffee Roasters. Our brewer worked with Home Town's coffee roaster to come up with a beer that showcased some of the darker roasted coffees.
Bläckfisk

Imperial Stout
This imperial octopus ink stout is not one to be taken lightly. Brewed in a once illegal process this stout boasts a full body that coats your mouth with every sip. Malt sweetness counters the heavy roasted grains perfectly making this imperial stout surprisingly drinkable.
Canopy Shaker

Juicy IPA
Treat yourself to juicy aromas of tropical fruits and citrus. Bursting with the bright flavors of orange and mango. This beer finishes smooth and refreshing, and will have you coming back for more. Brewed year-round as a salute to farmers in warmer climates.
EOD

IPA
Loads of citrus, tropical fruit, and pine, this beer features the wonderful hops that grow in our region. An assertive bitterness and just enough malt to bring balance, this IPA is the right choice for any occasion.