BREWERY PROFILE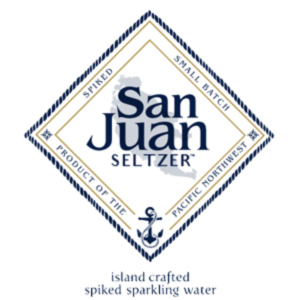 SAN JUAN SELTZER
SEATTLE, WA | www.sanjuanseltzer.com
San Juan Seltzer transforms everyday occasions into spirited ones. We provide the cleanest tasting, all-natural, alcoholic sparkling waters that are refreshing delicious and the lowest calories on the market. Each gluten-free flavor contains zero sugar, zero carbs and is inspired exclusively by Pacific Northwest fruit flavors that are blessed by our founder, Katy Enger, and CEO Ron Lloyd.
Rainier Cherry

(Hard) Seltzer
Unlike other dark cherry varietals, we were inspired to be unique with a rare, delicate and sweeter cherry that's recognized as an elite cherry in Eastern Washington, Oregon and Idaho. Welcome Rainier Cherry to our family.
Huckleberry

(Hard) Seltzer
Given all the Blueberry flavored options already out there, we felt we wouldn't be doing our job if we failed to create this unique Montana-style Huckleberry flavor.
Raspberry-Cran

(Hard) Seltzer
Rich ripe raspberry flavor notes steal the show right from the curtain call – delivering great refreshing taste through the every sip scene. Then, before the final curtain close, on comes cranberry – providing that final closing scene with grace, eloquence and style. Raspberry then Cranberry together – a star is born.
Fuji Apple

(Hard) Seltzer
We were inspired by the juicy, mouth-watering taste of a perfectly ripened and freshly picked Washington state grown Fuji Apple. Regardless of whether you wear 'purple and gold' or 'crimson and gray', we hope you will think "green" while attending your next tail gate or Apple Cup event.