BREWERY PROFILE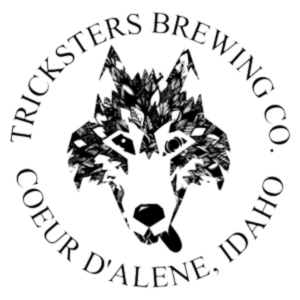 TRICKSTERS BREWING
SPOKANE, WA | www.trickstersbrewing.com
NO TRICKS, JUST GOOD BEER
Tricksters Brewing Co. was founded with the mission to brew well-crafted beer and the promise of no tricks, just good beer. Along with seasonals, Trickster's has three year-round beers always on tap in the tasting room: J-Box IPA, Cougar Bay Blonde, and Inspector Stonewalls Amber.
Raspberry Sour

Berliner Weisse
Kettle Sour with Raspberries, Blended with French Oak Chardonnay Barrel aged Berliner Weisse (18 Months). Lactic sour dominated with brettanomyces character from the wine barrel aging. Tart, Funky, and Fruity.
J-Box

IPA
A big fruity Northwest style IPA; Hop focused with Simcoe, Mosaic and Chinook.
Barrel Aged

Imperial Stout
Monster of a stout that is a blend of 2017 Imperial Stout with Vanilla and Cocoa Nibs that was aged in Hungarian Oak Cab Franc barrels for two years before being blended into out current Imperial Stout. Very complex flavors throughout.
Questionable IPA

IPA
A light Northwest Style IPA with classic IPA hops. Easy drinking and extremely hoppy.